Company Profile
Viking Roofing, Inc., a Broomfield based company that is owned and operated by the Sund family.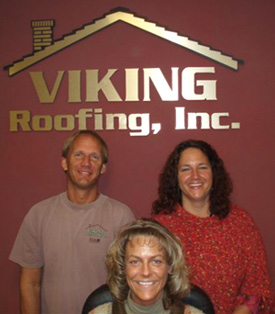 The entire team at Viking Roofing Inc., is committed to providing homeowners with quality roofing materials at a reasonable price. We are in the business of educating our homeowners in the products that are available to them, so they can feel they made the best decision for their re-roofing project.
During the re-roofing process, we strive to be in constant communication with our homeowners so they will be aware of the daily activities and progress. If at any time our homeowners have a question, we can be reached. With our hands on management style, we ensure that any special requirements on your roof will be addressed.
We understand that any home improvement project can be stressful. Therefore, Viking Roofing's team will make every effort to answer your questions, detail the re-roofing procedure, and educate you on the process to make your installation a well planned event.
---
Meet the Team
Scot Sund

Scot Sund is a great example of Mid-west "Hard work ethic." If you were to ask him to list the 10-gallon hats he wears most days at Viking Roofing, Inc., it would look something like this:
President
CEO
Estimator
Salesman
Product Knowledge Specialist
Crew Supervisor
Manager
Customer Relation Conflict Specialist
Hailing from Thief River Falls, MN, and not wanting the name of his town to haunt him any longer than necessary, he and his wife Jade picked Colorado out of all the 50 states in which to reside and†raise a family.
He is a graduate of the Carpentry Program at Moorhead Technical College, Minnesota with a 2-year degree. He brings over 15+ years of experience to Residential Roofing world. He is a great "no nonsense" communicator who can explain products and process of roofing to most people. Along with "Mid-west work ethic" comes a desire to get the job done well enough to put your name to it. Win-Win is the only option for Scot!
That winning attitude is shared by Viking Roofing's clients as well. Scot shares: "Viking Roofing gets stronger each year because of our past clients, our referring network and service partners. Without them we would not have a business." Empowering clients, staff and local business partners has been a key element in the success of the Viking culture. Scot has been involved for over 5 years with Buffini and Company, a coaching/consulting venture that assists businesses nationwide to grow their influence and market share one relationship at a time. Scot and his staff have taken this charge seriously and have shared their desire to work by referral with all they come in contact with. "Coming from a small town, you appreciate the closeness and tight sense of community. We've tried to keep that 'hometown coffee shop' feel in every thing we do. It truly feels like family. We wouldn't have it any other way!" This was demonstrated last summer on the hottest day on record, when Viking hosted a "Gratitude Gathering" event at the Bay Water Park. They invited past clients, business partners and those who had referred their services in the past for a wet, cool day of food and fun.
Scot has future plans to grow his staff to take on more of the daily duties so he can expand the Viking Roofing Inc. venture to include consulting with other contractors and professionals to have more productive businesses and more balanced lives. Sounds like more Win-Win!
Jade Sund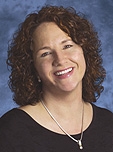 Jade Sund is the CFO, that's Chief Fun and Financial Officer. She was born and went to high school in Fargo, North Dakota, but came to Denver by way of Felton, Minnesota, a town east of Fargo with less than 300 people. Before they were married Scot and Jade took an atlas out and her finger rested on Denver. Why Colorado, Jade? "345 out of 365 days of sun compared to Northern Minnesotaís sometime 90-day stretches of non-sun days. When it does snow, it doesnít stick around long."
Jade has been serving others since she was 10 years old. A small sampling: baby sitter, house cleaner, waitress, banquet server, bartender, retail salesperson, retail manager, outside sales, direct sales, trainer of small business owners and a roofing contractor.
Jade instinctively feels and understands at a deep emotional level what other people need. She communicates using words that uncomplicate matters and make it simple for others to understand. She is a strong advocate and coach to move people forward. She loves to learn new ways to do things and shares these insights generously. She has developed keen skills in conflict resolution. She is seen by many to be an expert in Business and Community Networking. When you meet Jade, be aware she loves to stand out as well as leave a memorable and lasting positive impression with you.
She is a dynamic speaker and resource touchstone. Her workstyle of motivating is consultative. She loves sharing quality information and empowering others to make their own decision. She brought her "small town coziness" to the big city and local industry of contracting. Her affirmation of: "Small town people helping each other and building lasting relationships" is evident throughout her circles of influence which has grown to include present, past customers and network partners.
Jade has been passionate in establishing Viking Roofing as a vibrant connector for local businesses to be able to cement with other quality businesses. They provide training for all types of businesses through small groups meetings. Jade trains regularly on topics such as sales, communication, proper business sequence and referral processes to the members of the local chambers of commerce and leads groups. Viking Roofing is an active resource for connections to non-profits. In May 2006, Jade and Scot will be traveling to Baton Rouge on behalf of "Habitat for Humanity." Jade, Scot and Viking Roofing, Inc. consider it a privilege to give from abundance whether it be time, in kind, materials, labor, or money to non-profits endeavors.
Heidi Jenson

Heidi Jenson is the Business Development, Office and Customer Service Manager at Viking Roofing. She is also a member of the Sales Team taking time out for the scheduling, and coordination of Suppliers and Homeowners logistics. She is an advocate and ambassador for the team at local Networking, Chamber and Leads Groups. Heidi is originally from Humboldt, Iowa. She moved to Colorado Springs, Colorado with her father who was stationed in the Army there. Once he left the service Heidiís family settled in Broomfield.
She has had over 15 years in Customer Service and has learned to adapt to many different situations and how to bring a positive outlook to whatever challenges she encountered. Being in a people and challenge-rich environment has always been invigorating for her. Loving the research and limitless opportunities to grow her talents and skills has been a great blessing to her. Educating the homeowner, as well as herself, means she continually is growing and adding value to what she offers. Keeping the homeowner's best interest at heart is central to her hands-on style.
Heidi shared a few more thoughts: "We are very involved with the Broomfield Chamber. We not only attend monthly after hour events and networking groups but also volunteer with our time and talents along with donating to events as to help support our community.
"I find it refreshing to be part of a team that truly cares about the homeowner. We are not just out to 'make the sale.' At Viking we want to educate and inform the homeowner so that they are able to make the best decisions for what they are looking for. We build and keep relationships with those we come into contact with. Our customers are very loyal! I have found homeowners referring us to their family and friends up to 6 years after we originally did their roof. I have also had current homeowners for whom we have not yet completed their roofs but they feel comfortable and confident in our service and have been more than happy to pass our name on.
"Some of the comments I've heard from customers are: 'It was a pleasure doing business with you,' and 'Your professionalism, cleanliness along with your communication and follow up truly set you apart from other contractors that we have worked with in the past.'"
---
Dear Scot & Jade,

The roof looks great! With our year long search for a dependable and reasonable roofing company, we were so pleased and amazed at how quickly and smoothly you put our roof on. Thank You!

Thanks Again,

JL
Arvada, CO